Watch the Replay with Dr. Peter Kan & Jonathan Otto on April 8th
Watch the Replay from Dr. Cathleen Gerenger and Jonathan Otto - Question and Answer Tuesday, March 30
Watch the Replay from Dr. Cathleen Gerenger and Jonathan Otto - Question and Answer March 10th, 2021
Watch the Replay from Dr. Brook Goldner and Jonathan Otto - Question and Answer March 2nd, 2021
Watch the Replay with Dr. Peter Kan & Jonathan Otto -
Question and Answer February 22nd, 2021.





Dr. Kan's journey started when his father was diagnosed with terminal liver cancer at the age of 75 and was told there was no hope of survival. Dr. Kan along with his brother, who is also a physician, researched naturals methods to support their father's condition. He was able to live another 5 years symptom free through nutrition, diet change and natural therapies. When Dr. Kan's one year old son suffered a severe burn injury that led to a host of chronic respiratory conditions and neurobehavioral symptoms, Dr. Kan sought answers in functional neurology, completing his fellowship training in Childhood Development Disorder and became a Board Certified Chiropractic Neurologist. A few years later, when he found out his daughter has severe food allergies the hard way, by rushing her to the hospital due to anaphylaxis, he dove head first into functional medicine, completing training as a Certified Functional Medicine Practitioner and Certified Gluten Practitioner, as well as attaining Fellowship status with the American Association of Integrative Medicine.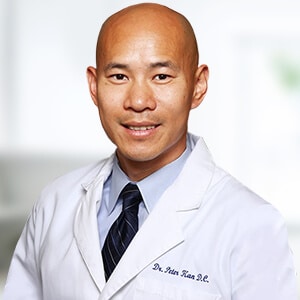 Dr. Kan believes that there are no accidents in life and everything happens for a reason. Although the family illnesses were difficult and stressful, his family's health was transformed through it all. Thousands of hours of post graduate training and over 5,000 clients later, Dr. Kan is committed more than ever to use what he has learned to help those who has lost hope and lost in the insurance-based, profit-motivated, and pharmaceutically-driven system that is failing people with chronic conditions.
Some Of The Conditions Dr. Kan Has Solved
Autoimmunity
Chronic Hypothyroidism
Hashimoto's Thyroiditis
Hormone Imbalance
Irritable Bowel Disease
Crohn's Disease
Ulcerative Colitis
Psoriatic Arthritis
SIBO
Leaky Gut Syndrome
Heartburn/Reflux/GERD
Alopecia
Fibromyalgia
Chronic Fatigue
Brain Fog
Depression
Anxiety and Mood Disorders
Insomnia
Weight Loss Resistance
Adrenal Fatigue
Chronic Infections
Low Immune Function
Skin Conditions Unresponsive to Meds
Heavy Metal Toxicity
Food Sensitivities and Allergies
Multiple Chemical Sensitivities
Neurodegenerative Disorders
Insulin Resistance/Diabetes
Cardiovascular Disease
Chronic Hypertension